Sonic Panel Features Presentation
Radio Control Center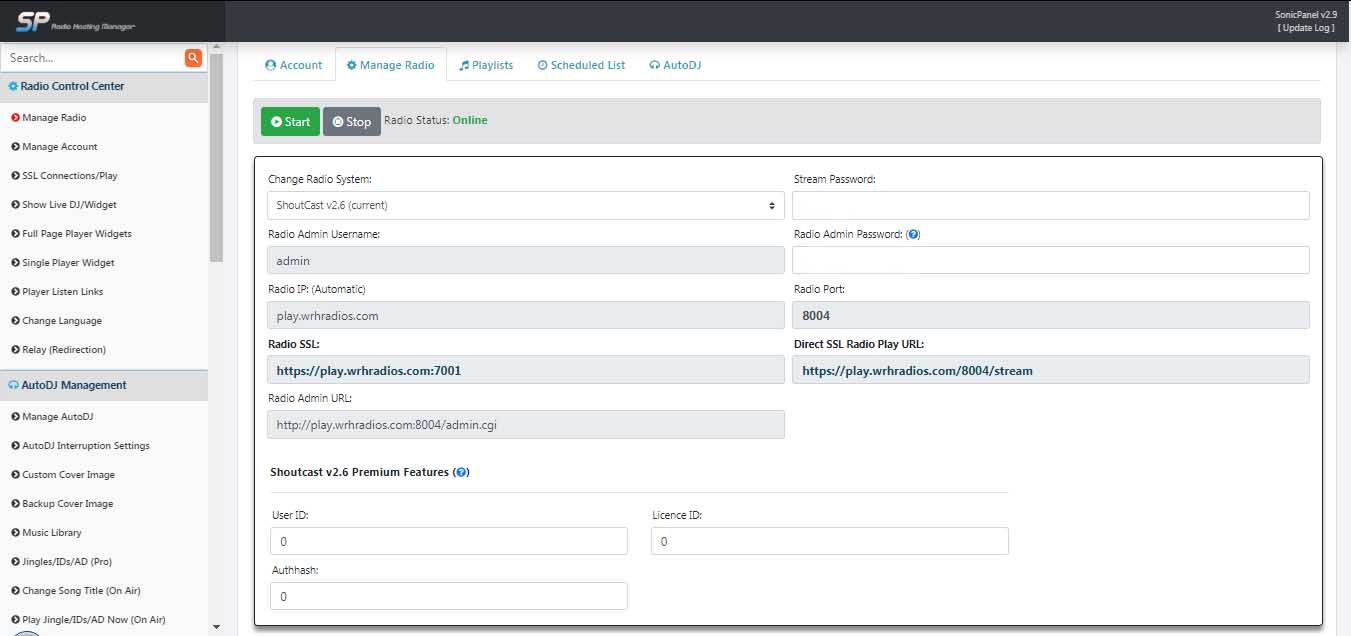 In the Radio Control Center you can set the main features of the stream:

1. Change Sonic Panel log-in password
2. Change contact email
3. Enter Google Maps API Key for Radio Listeners (Google Maps) feature
4. Enter Radio Website Url


1. Change Radio System - This is one of the most interesting features introduced by Sonic Panel with which, after ordering the streaming server, you can change the type of stream whenever you want. You can choose between SHOUTcast v.1, SHOUTcast 2.5, SHOUTcast 2.6 and Icecast 2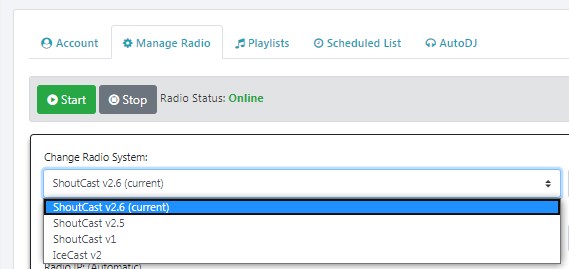 2. Change Stream and Radio Admin password
3. Radio SSL Stream link informations
4. Radio Admin URL


5. Shoutcast v2.6 Premium Features

If you want the station to be public on Shoutcast.com directory, then you will need an authorization key (authhash).
For the new streams that are created, if DNAS 2.5 shoutcast is used, the new autohash generated is incompatible.
Because of this, if you want to use the Shoutcast stream and want the radio station to be listed on shoutcast.com, you will need to use the new version of Shoutcast 2.6

In order to create the autohash, you will need to register at this address: https://radiomanager.shoutcast.com/
There are two options:
- Shoutcast v2.6 Free version supports only 128kbps MP3 encoder stream. Enter your Authhash code if you want to list your radio on Shoutcast Directory listings.
- Shoutcast v2.6 Premium if you need to stream by AAC encoder too and higher bitrates. Enter your premium User ID and Licence ID

- a playlist can be selected and create a schedule
- can create a new playlist
- new mp3 files can be uploaded


The Scheduled playlists are displayed. The completed scheduled playlists can be deleted.
- AutoDj TAB:
Here you can set all the features to AutoDj: - Select the active playlist which will work 24 hours a day. When there is no other playlist scheduled, the active playlist will be played automatically.
- Select the encoder type: mp3, AAC+, Flac, Vorbis/Ogg
- Enter the Radio Title
- Enter the radio website URL
- Select the Play order: Play in Order or Play in Shuffle Mode
- Smart CrossFade (AutoMix) between the played tracks
- Maximum Bitrate Limit
- Record Live DJ Shows. You can enable it to record your all DJs live shows to an MP3 file and you can also download them from your SonicPanel, so you can re-upload them and use in playlists as well.
Once your DJ is on air, the show will be recorded under your radio account as an MP3 file and it will use your available hosting space. Long shows can use too much space, 500mb to 1GB, especially if the record quality option is set to 320kbps.
- Live Record MP3 Quality. You can choose between 128 or 320 KBPS
- Song Title Settings. You can show or hide the song titles.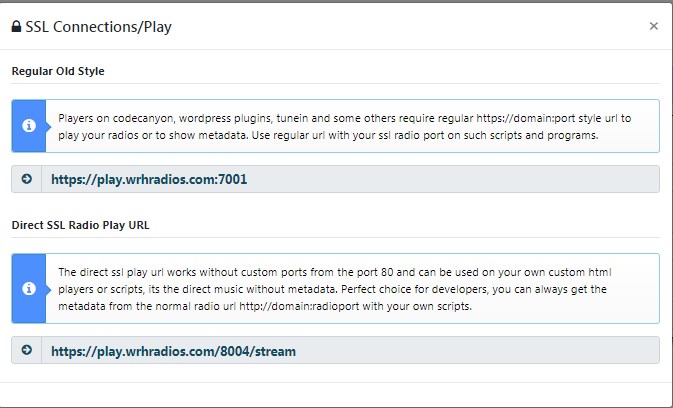 The SSL links you can use in your players. For the first example is better to use the default mountpoint (for shoutcast 2 and icecast) https://play.wrhradios.com:7001/stream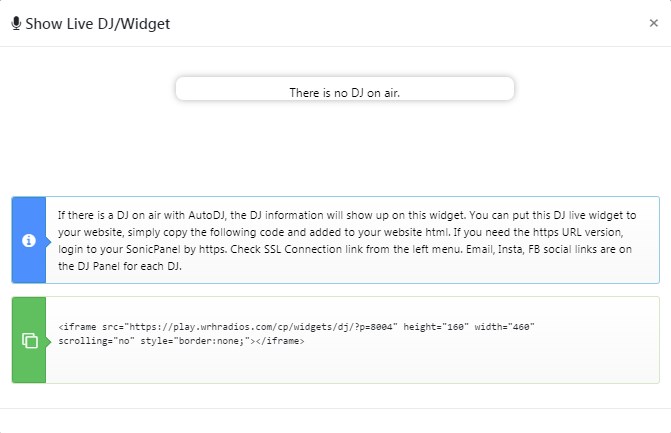 If there is a DJ on air with AutoDJ, the DJ information will show up on this widget. You can put this DJ live widget to your website
- Full Page Player Widgets: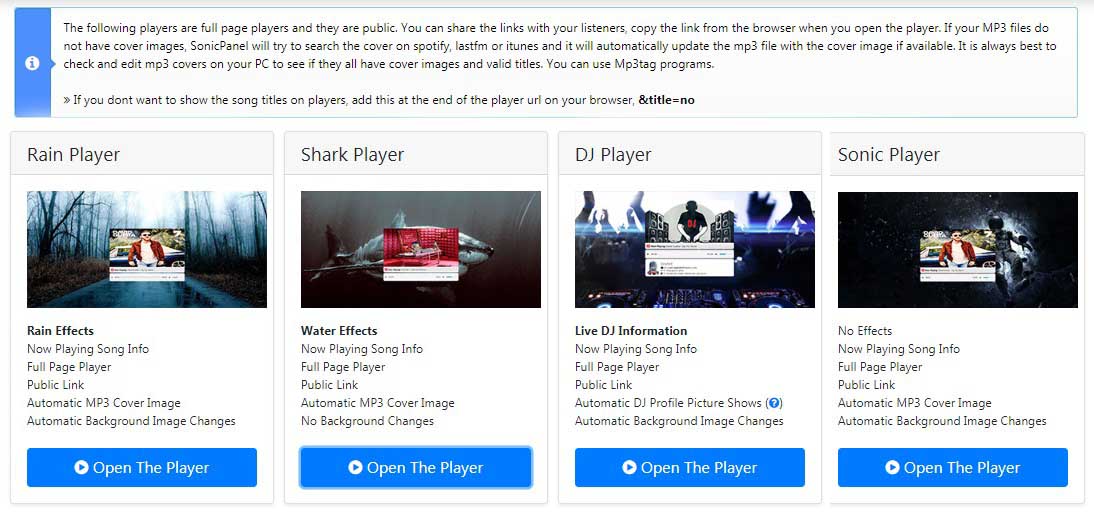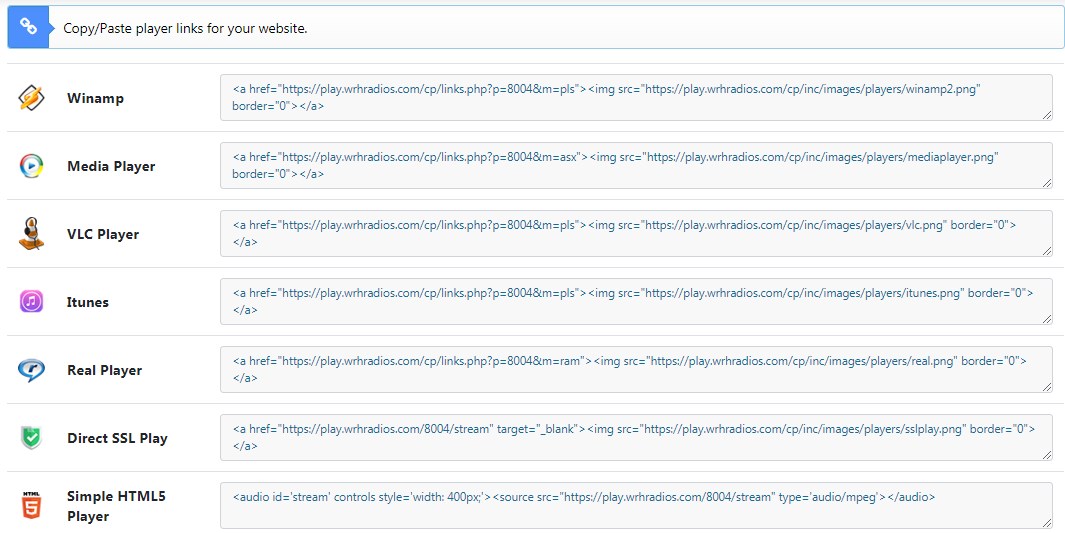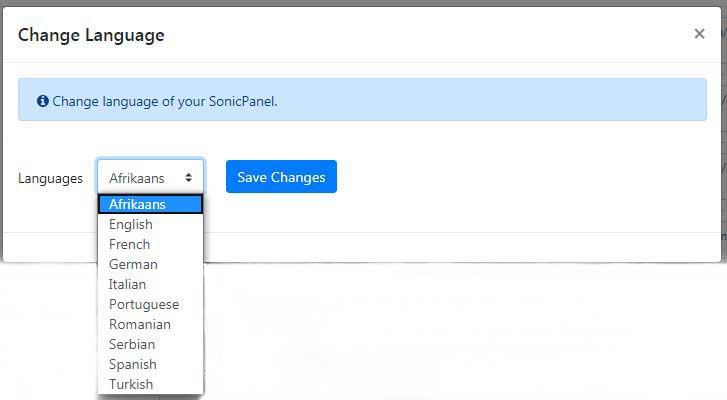 At this moment you can set the Sonic Panel language to 10 different languages.