The new DJ Manager allows you to create a unique username and password for each of your dj's. There are 2 different ways your dj's can use their dj account,

1. The dj will use their login details to connect to your server in their live source software (ie. Sam Broadcaster, WinAmp Broadcaster, Virtual DJ, Nicecast, etc.). This is, by far the most popular feature with Centova v3, even though the server is SHOUTcast v2, dj's are able to connect using either SHOUTcast v1 or SHOUTcast v2 method, this comes in handy for dj's that do not yet have SHOUTcast v2 compatable software.

2. The dj can also use the same username and password you create for them to login to your Centova v3 control panel. You choose what the dj can do and when they can do it!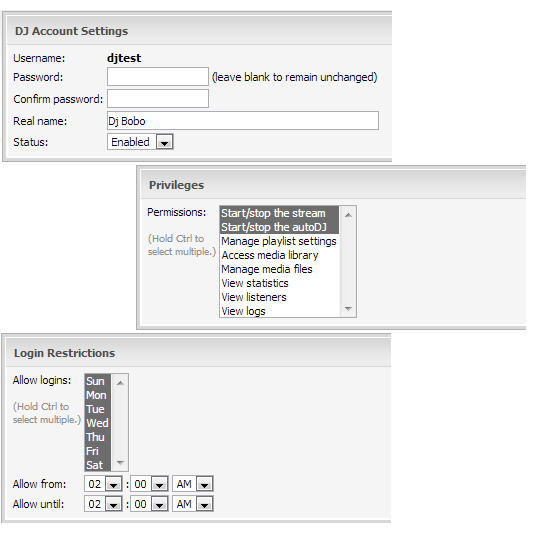 3.

Seamless & Automatic Switching!

With Centova v3 your DJ's are able to easily connect to the server and begin their broadcast with a single click!
Centova v3 will detect when a live source has connected and automatically switch from auto dj to live broadcast SEAMLESSLY! The transication is also seamless for the listener, if timed right by the DJ, they will never even realize the stream went from auto dj to live dj!
When the dj is finished with his/her broadcast, they need only disconnect, Centova v3 will go back to auto dj and wait for the next DJ to come online. All that is required on the DJ's end is live source software such as the free Win Amp Broadcaster, the popular Sam Broadcaster, plus many more.
Clients using SHOUTcast v2 or IceCast can now create multiple independent mount points through the Centova Cast web interface.
This allows clients to rebroadcast their stream in multiple bit rates, or even broadcast multiple independent streams through a single SHOUTcast/IceCast server.



ATTENTION! The summ of the different bit rate mountpoints can't exceed the total amount of your maximum bitrate of your purchased server.
The statistics system has been completely redesigned using AJAX to improve responsiveness and interactivity. Additionally, statistics are now displayed in the client's selected time zone, and are no longer limited to 60 days of history. Historical statistics can also be downloaded as spreadsheets.
Four types of playlists are available, as described on the next four slides. Through a combination of the playlist types offered by Centova Cast, you can achieve total control over your media scheduling, and completely eliminate the need for expensive third-party source software to schedule your tracks.