Create your own radio mobile application
No coding required, Compatible with Icecast, SHOUTcast and others.
Our applications can run on all devices:
IPhones, Android and HTML5 for users of Windows 8 and BlackBerry.
EASY AS 1,2,3
Just 2 steps to create your mobile app.
Create your app. Submit it to the stores.
CROSS PLATFORM
Create once and obtain native apps for iPhone, iPads, Android phones and tablets, and a web app.
CHOOSE AMONG BEAUTIFUL TEMPLATES
Create once and obtain native apps for iPhone, iPads, Android phones and tablets, and a web app.
PACK OF BUILT-IN FEATURES
Choose from loyalty card to Facebook page features and many others.
UPDATABLE APP
Update the content of your app without republishing it.
YOUR CUSTOM DESIGN
Custom every pages with your colors, and every backgrounds with your images.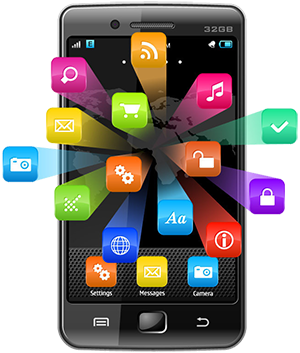 RadioApps Creator Platform
Webradio Hosting provides you an opportunity to create your own mobile apps, through an online interface easy to use. No software to install. No coding required.
RadioApps Creator is a webplatform for building mobile applications with no technical knowledge.
View more in formations here:
RadioApps Creator Features
After creating, your application will be published by our team on the Google Play (Android Market) and on Apple App Store. Your app will be accessible to millions of users!
For all the plans you have:
- Unlimited users (The maximum number of times your app can be downloaded)
- Submission to Google App Play for free
- The possibility to add or change later the application structure or content without the need to be republished again. All changes is updated in real time on all devices where your app is installed.
ATTENTION!
Regarding the publication of the iOS version of your application on App Store:

We can submit your app to the App Store automatically with our auto-publishing service called "iOS Auto-publish" only on your Apple Developer account.
The Auto-publish service cannot be used if you have an Apple account that is "Individual". So you must have a business Apple developer account.
Apple accounts requires to have the 2 factor authentication activated, but only for the owner of the account. Therefore you will need to add a new member to the Apple account because iOS Auto-publish service does not support Double Authentification.

Read more information
HERE
RadioApps Features
One-time Setup Fee
Monthly Subscription
iPhone App
Android App
Submission for you on stores
Custom Design
Unlimited Push Notifications
Unlimited Automatic Updates
App Creator features
Support
Analytics
Promoting tools
Admob Banner Ads
Plan A
One-time Setup Fee
€100
Monthly Subscription
€5
iPhone App
Android App
Submission for you on stores

One free publication for both, iOS and Android application

Custom Design
Unlimited Push Notifications
Unlimited Automatic Updates
App Creator features
Support
Analytics
Promoting tools
Admob Banner Ads
Plan B
One-time Setup Fee
Monthly Subscription
€10
iPhone App
Android App
Submission for you on stores
Custom Design
Unlimited Push Notifications
Unlimited Automatic Updates
App Creator features
Support
Analytics
Promoting tools
Admob Banner Ads
FAQ