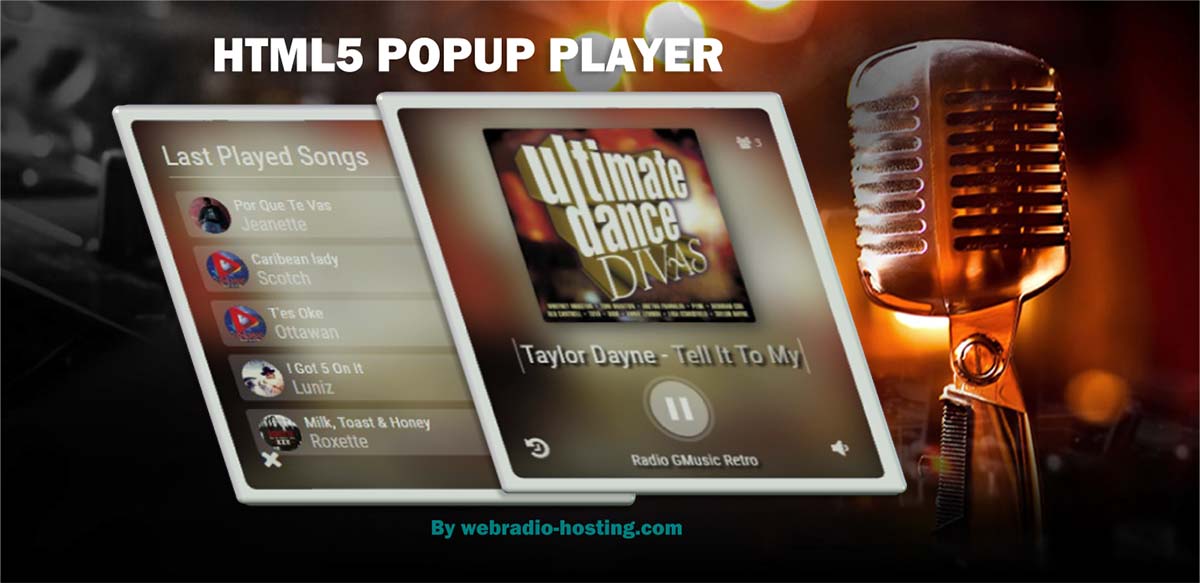 SHOUTCAST & ICECAST
Compatible with both Shoutcast 1/2 and Icecast 2.

ALBUM ARTWORK
iTunes API is used to retrieve all the album artwork.
SONG HISTORY
Display the last songs played on your radio station.
ANIMATED
Scrolling songtitle effect and album cover animation!

RESPONSIVE DESIGN
Optimized to look great on Desktop, Tablet and Phone!
CURRENT LISTENERS
Show your radio current listeners number (optional).
EASY CONFIGURATION
Easy configuration interface and install documentation.

SOCIAL SHARE
Share your Radio player Facebook & Twitter.
USE IT ANYWHERE
Simple HTML embed code to use on any website and platform
WRH HTML5 Popup Player
This popup player offer a great advantage: it solves the problem of the player's incompatibility on a website that uses SSL encryption and the stream source that uses a IPs number which can hardly be resolved to have SSL encryption.
This causes a lot of headaches to those who own a website and a radio station because of SSL issues like mixed content error, or the player is not displayed, or not play the music ...
With our popup player, you can put it on your https website without generate this errors and the player will be loaded separately in another window.
Do you need to get your stream HTTPS enabled?
Our service provides a solution to give for your SHOUTcast or Icecast stream an HTTPS address which can be used in your players on your website (or wherever you need to provide a secure link). Sign up, choose one of our radio hosting servers and choose the Secured Stream.
Anyone who already has a subscription for one of our servers can add this addon by logging into the Client Area.
System requirements:
- web server or web hosting account
- MySQL 5.1 or higher
- PHP 5.6, PHP 7.1, PHP 7.2, PHP 7.3, PHP 7.4
- ionCube loader (if you don't have ionCube installed on your system, our packages contain the ionCube loader wizard that will help you step by step to install the ionCube loader files on your web site.)
Normally, all web hosting services have installed the ionCube loader by default.
- ftp client or other possibilities to upload the script files to your web site
HTML5 Popup Player Example
Click to see how it works.

WRH HTML5 Popup Player
€15.00
One time payment
1 installation/lifetime license
1 Year support & updates