Photo Gallery Activities allow you to include photos in your app.


Example Screenshot





Settings
Activity Name
The name that you want to give your activity. This will appear on the dashboard and on the Action bar. It can be whatever you want but should probably describe what it is used for. For example: "Band Members".
Description
A few words describing this activity. This text may be displayed on the dashboard as a subtitle when it's Show Subtitle Text setting is enabled.


Icon
This is where you can select the icon that will be used to represent this activity on the dashboard. Click the 'Browse' button to select and image file.
Details
Here you can control the features that you want to enable or disable in your Photo Gallery Activity: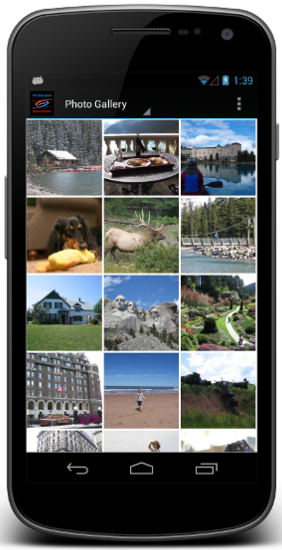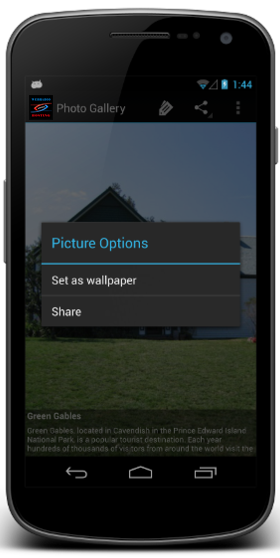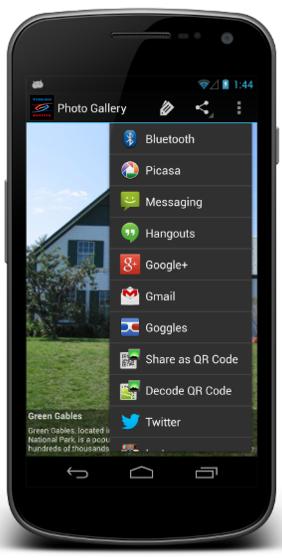 Show Index Page?
Whether or not your activity will include an index page. The index page is a scrollable grid containing thumbnail versions of all of your photos.
Show Descriptions?
Whether or not the descriptions of your photos will be displayed.
Enable Set-as-Wallpaper?
Controls whether or not the end user of your application will be able to use your photos for their wallpaper.
Enable Photo Sharing?
Whether or not the end users of your application will be able to share your photos. Photos will be shared using the share intent and available to applications that support that intent (e.g. Gmail, Twitter, Facebook)


Upload Photo Files:
Here you can upload photos that will appear in your Photo Gallery Activity. Supported image formats: PNG and JPG.
Maximum 1024x1024, 2 MB, .JPG format files.
Must be a .zip file that contains your photo files and related:

- Title (What is this a photo of?)

- Description ( Enter a short description of this photo) in a .txt file